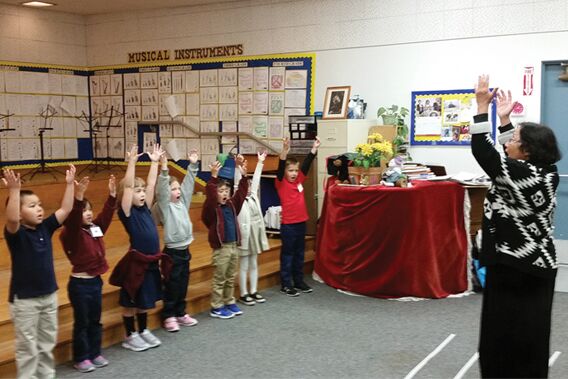 With our smaller class size and a twelve to one max student to teacher ratio, our dedicated staff is able to provide not only an accelerated curriculum for our students, but also more individualized instruction that benefits students who need additional help and support in an academic skill.
Our absolute commitment to daily experiences in music, art, foreign languages, and physical education, including yoga, distinguishes us from other schools, including other private schools. The indispensability of these learning opportunities is central to our educational philosophy of developing the whole child. It is our sincere belief that, along with highly responsive instructional practices in core academic subjects, cultural growth begets social and inner growth, and brings out the absolute best in each student.
Our Kindergarten enrollment guidelines do not restrict students from entering and starting Kindergarten based purely on their birth date. Rather than rely on the state cut-off date for enrollment, we factor in the child's emotional readiness, academic ability, stamina, as well as other aspects.
Carden Conservatory Kindergarten
At Carden Conservatory, we consider nothing more important than to help each child learn and grow at their best pace. As such, we have constructed our kindergarten program with the aim of benefiting all of our students. Our small kindergarten classes allow each instructor to focus closely on meeting every student's individual needs, while also offering more advanced curriculum, which will put every student at the head of the curve as they progress through school. Our current class sizes average at about 12 students for every teacher, a setup that certifies your child will receive the best possible guidance.
About Our Curriculum
When you choose Carden Conservatory's kindergarten in Huntington Beach, CA, you guarantee your child will be exposed to a wide and varied curriculum, filled with all of the skill-sets necessary to help guide their development thoroughly. We offer instruction in physical education, music, foreign languages, and art on a daily basis. We believe a child's development is not just cognitive, but also social, creative, physical and more. Our commitment to helping our kindergarteners develop on a broad scale is what sets us apart as the best kindergarten in the Huntington Beach, CA area.
Schedule a tour today for further information about our Kindergarten program!
KINDERGARTEN CURRICULUM
Reading
Consonant names and sounds
Blends
Two vowel rule
Vowel alone sounds
Selected "sight" words (i.e.: the, of, to, do, who, I, a)
Long and short vowel sounds
Word families such as: at and ing
Readers:
I See
Joan
The Red Book
Spelling
Printing upper and lower case alphabet
Weekly spelling lessons of five words starting in January
Dictated stories of three to five sentences
Grammar
Singular vs. plural
Vocabulary development
Introduction to noun/verb agreement
Introduction of the who/doing sentence
Capitals and punctuation
Literature
Johnny Crow's New Garden
April's Kittens
The Little Engine That Could
Selected poems from Robert Louis Stevenson
Over in the Meadow
Marshmallow
Play With Me
Math
Printing numbers 1 – 100
Spelling numbers one to ten
Number line 1 – 9
Addition:
Adding one to sums of 1 – 9
Adding two to sums of 2 – 9
Adding three to sums of 3-9
Subtraction:
Subtracting one with remainders of 0 – 8
Subtracting two with remainders of 0 – 7
Measuring whole inches with a ruler
Sorting and categorizing data
Counting and identifying pennies, nickels, dimes, and quarters
Telling time to the whole hour and half hour
Identifying less/more, greater/smaller
Estimating
Simple graphs
Counting by 2's, 5's, and 10's
Recognizing and continuing patterns
Science
Life Science:
Nutrition
Plants
Animal
Physical Science:
Weather
Seasons
Heat/Cold
Earth Sciences:
Conservation of Earth's resources
Characteristics of landforms
Social Studies
Famous Americans
US symbols and national holidays
Citizenship
Months of the year
Days of the week
Life long ago vs. my community today
KINDERGARTEN VOWEL CHART
a+ e+ i+ o+ u+
(a) (e) (i) (o) (u)